Central Michigan University (CMU)
About CMU
Established in 1892, Central Michigan University, located in Mount Pleasant, was originally founded as a school for teacher and business education. Today, this doctoral research university is the fourth largest institution in Michigan and among the 100 largest public universities nationally.
Central Michigan University has offered degree programs through its Global Campus unit to working adults for more than 40 years. The University operates a network of CMU Learning Centers in more than 50 locations throughout the United States, Canada and Mexico. CMU has awarded degrees through its Global Campus unit to more than 70,000 students since its inception in 1971. Programs are offered at the undergraduate, masters, specialist and doctoral levels, including non-degree certifications.
CMU is the nation's foremost university authorizer of charter schools with 60 schools educating 29,000 students in grades K-12. CMU's Division I athletics program, a member of the Mid-American Conference (MAC), offers nine intercollegiate sports for women and seven for men. CMU Public Broadcasting operates 10 television and seven radio stations with the largest geographic reach of any Public Broadcasting system in the country. CMU is also home to the headquarters of Special Olympics Michigan.​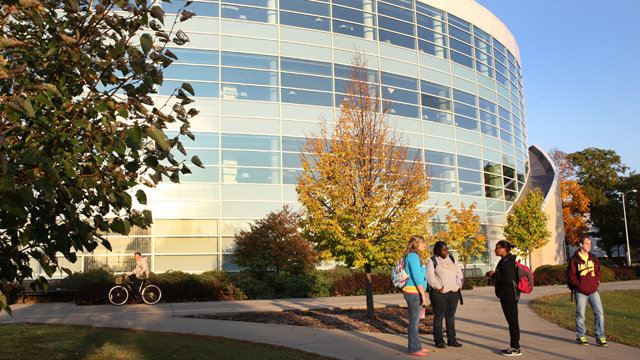 ---
Central Michigan University (CMU) / Jilin University– Lambton College (JULC)
1+1 Post – graduate Program
Admissions for Spring 2018
Master of Science in Information Systems (MSIS)
The Association to Advance Collegiate Schools of Business (AACSB) accredited business school
Earn a master's degree from one of the 100 largest public universities in the US
Taught in English
International recognition
A.Learning mode
Students spend1 yearstudying in JULC andtransfer toCMU in the United States to pursue the remaining one year master's programcourses.
B. About CMU(www.cmich.edu)
CMU was founded in 1892 and today is among the United States' 100 largest public universities. It'sone of the state's leading institutions of higher learning. It'slocated in Mount Pleasant City, Michigan State, USA. CMUhas a wide range of disciplines among the US comprehensive universities,and is ranked No. 43in the US most valuable public universities.
CMU has School of Science and Technology, School of Medicine, School of Education and Human Services, School of Humanities and Sociology, School of Business, School of Health Sciences, School of Arts andMedia. CMU offers more than 200 kinds of undergraduate, master's and doctor's degrees. Its business schools are accredited by AACSB. Only less than 5% of the world's business schoolsobtained this certification.
In mainland China only Peking University, Tsinghua University, Fudan University, Shanghai Jiaotong University altogether 10 Collegiate Schools of Business got accreditation through AACSB. Over a hundred JULC graduates pursued post – graduate programs at CMU.
C.Project benefits
Cost savings: The tuition charged is the same as for in-state tuition; this is lower than out-of-state and international tuition.
High starting income: MSIS graduates starting annual income of $60 -80thousand US dollars is much higher than that of other post –graduate majors
Longer OPT: MSIS Graduates are eligible for up to 29 monthswork permit (OPT) time in the United States.
D.Introductions of program major
Master of Science in Information Systems (MSIS) AACSB certification
Concentrations: Information Management, SAP
MSIS: 33 credits hours over 11 courses, with a concentration in SAP(SAP is the world's NO. 1 enterprise management software solutions used by Fortune 500 companies). CMU's MSIS (SAP) ranked first in the whole of North America SAP alliance.
CMU's MSIS aims to develop high-end talent in information systems management to engage in industrial, commercial, consulting, information, government, and other areas.
★Dual Master's Degree
MSIS or MBA students take an extra seven courses (about 1 year)which can lead to dual MSIS + MBA degrees.
5.Admission Requirements
1) Graduates with a bachelor's degree, and current university students;
2) --- Undergraduate GPA3.0 + (equivalent to the average score of 75 + out of 100);
--- TOEFL79 or IELTS6.5 (student does not meet the language requirements, JULC provides basic English training courses);
--- Interview.
3) Tuition:
China academic courses: ¥85,000 RMB;
USA academic courses: about ¥60,000RMB (tuition may slightly different based on concentrations student takes) .
Note: The tuition excludes book fees, accommodation, and postgraduate preparatory course fee.
4) Application Materials:
※Application Fee: ¥200RMB
※ Application Form (in English)
※ Personal statement (in English )
※ Two letters of recommendations (in English )
※ Original transcripts ofTOEFL, IELTS and other English test scores
Original undergraduate transcripts (in English )
Original Bachelor's degree certificate or certificate from current university (in English)
5) Start dates:
February, 2018
Location : Jilin University - Lambton College (452 Guigu Street, Changchun City, Jilin Province, China)
6) Contact Information
Admissions Tel: 0431 -85168619
Admission mail:loisyang@julc.cn
College website: http://www.julc.cn
Admissions Website: http://zs.julc.cn